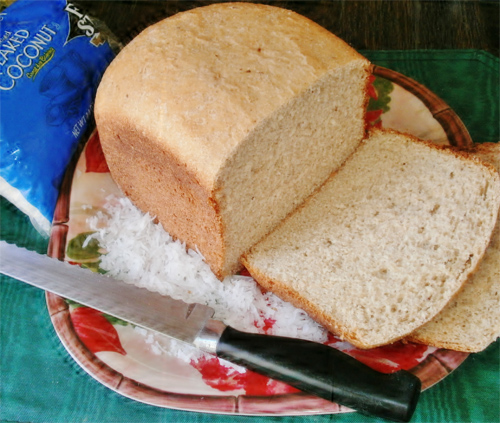 Gluten Free High-Protein Coconut Flour Breadmaker Bread Recipe
photo by recipe author
Servings: 12
Preparation Time: 10 minutes
Add all ingredients to breadmaker canister, exactly as listed (in order) from top to bottom, but after adding flours make a small well in which to measure in the yeast.
Snap the canister back into the breadmaker, and turn it onto the "light" quick-bread settings (3-hour cycle). After mixing has been ongoing for about 2 or 3 minutes, using a spatula, push the accumulated flour in the corners toward the paddle center.
Then allow the breadmaker to go through all kneading and rising cycles to the end. Unplug and using pot-holders pull out cannister to cool bread slightly before removing (and the loaf will pop out with a few taps).
Depending on your model of breadmaker, slight adjustments to liquid might need to be made.
*You can make your own gluten free flour mix from one of our recipes here.
Recipe submitted by Cheri, Coronado, CA
Published on October 7, 2013