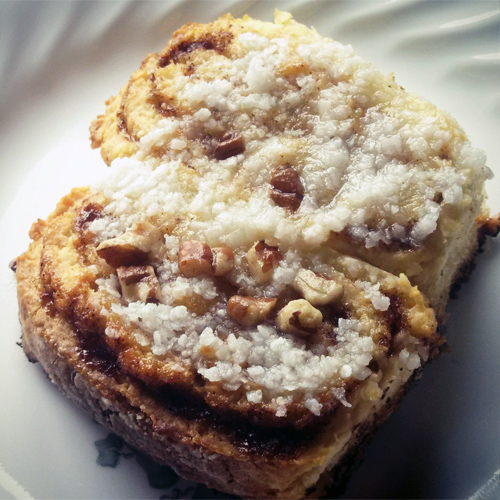 Grain Free Cinnamon Rolls Recipe
photo by recipe author
Servings: 8 rolls
Preparation Time: 25 minutes
Dough:
Filling:
You will need:
Wax paper
Extra tapioca or white rice flour for dusting
Rolling Pin
1. Mix the tapioca & coconut flour in a large bowl. Add the other dry ingredients and mix well.
2. In separate bowl, whip the eggs well. Add the oil and water and mix.
3. Pour the liquids into the dry ingredients and mix until makes sticky dough (add more water as needed). Set aside in fridge to allow coconut to absorb liquids and oil to thicken to make dough more pliable.
4. For the filling, mix all liquid honey and butter first, then blend in cinnamon and more sugar to your liking. Set aside.
5. Preheat oven to 350 degrees °F.
6. Spread out the wax paper of plastic wrap. Sprinkle with flour to prevent dough from sticking.
7. Place dough in the center of the workspace. Flatten slightly with hands. Sprinkle flour on top to make dough a little less sticky.
8. Apply flour to rolling pin and roll out dough to a rectangular shape.
9. Spread the filling to the top of the flattened dough. Roll the dough carefully from one side to the other, using the wax paper to help lift and the coating flour to help separate.
10. Now that you have a cinnamon roll log, cut it in half. Each half, cut in half again until you have 8 pieces.
11. Lightly dust a tall edged baking pan with flour, not oil. (I made that mistake with the first batch!) The flour helps the sugar not to burn and make bottoms crispy. Place rolls gently on baking pan and put in oven for 25-30 minutes. You can check the doneness by inserting a toothpick to see if it comes out clean.
12. Let the rolls cool for at least 5 minutes. You can apply a simple icing, mix icing with coconut flakes and pecan pieces or syrup with butter or eat them plain. (Icing is made from mixing powdered sugar and milk/water).
Recipe submitted by Idara, Philo, OH
Published on December 28, 2013