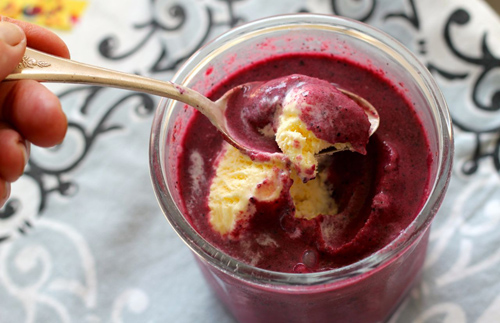 Aronia Berry Smoothie
photo by recipe author
Servings: 4
Preparation Time: 10 mins
2 tablespoons chia seeds, soaked in ½ cup water for 15 minutes
1 cup ice cubes
1 cup coconut milk*
1 cup plain Greek yogurt, or kefir
1-2 tablespoons raw honey
1-2 tablespoons coconut cream concentrate
1 or 2 frozen bananas
1 cup frozen aronia berries, or blueberries
water, as needed
scoop of ice cream or dollop whipped cream, optional
Soak chia seeds in water for 15 minutes.
Put all ingredients into blender. Blend until smooth, adding water as necessary.
Top with ice cream or whipped cream, if desired.
*For the freshest coconut milk make homemade coconut milk. (See video at this link.)
Amy from Milford, NE won $50 for this recipe and photo! Submit your coconut recipes and photos here!
Published on September 16, 2015