Our coconut flour recipes are easy to follow, and we include video demos to show you how to bake with coconut flour. All of our coconut flour recipes are kitchen tested! Learn how to cook with coconut flour recipes and enjoy gluten free and nutritious coconut flour baked goods, entrées, desserts, and more.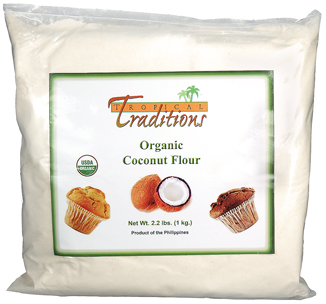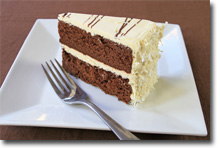 Tropical Traditions organic coconut flour is fiber from the coconut meat after most of the oil has been extracted to make Virgin Coconut Oil. It is certified organic, unsweetened, and has not been treated with sulfites. Tropical Traditions organic coconut flour is high in dietary fiber and protein, and is gluten-free. It has more fiber than gluten-based grains. Tropical Traditions organic coconut flour can be added to standard wheat-based recipes to add extra fiber, by substituting 10-30% of the grain-based flour with our coconut flour. Some recipes, such as muffins and quick breads, can be accomplished with 100% Tropical Traditions organic coconut flour and therefore be 100% gluten-free! (See some free recipes below.) Since organic coconut flour contains natural sugar from the coconut meat, baked goods need less sugar added. The organic coconut flour has a mildly sweet coconut taste!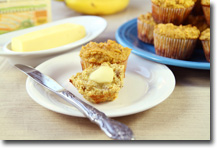 Tropical Traditions organic coconut flour also contains over 19% non-gluten protein! Therefore, it makes an excellent addition to shakes and smoothies where fiber and protein are needed. Or simply dissolve a spoonful in water as a high-fiber drink with a coconut flavor! This organic coconut flour is very versatile and very tasty. Sprinkle it over your favorite dishes to add a wonderful coconut flavor, use it as a thickener in soups and sauces – the possibilities are endless!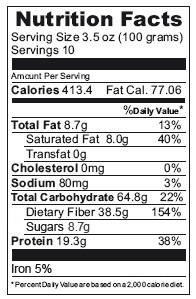 Making A Foolproof Gluten Free Coconut Flour Cake

Watch this video to see how to make a moist, fluffy, chocolaty, and perfectly foolproof gluten free chocolate cake with coconut flour!
Full recipe here.
Read our blog post: How to Use Coconut Flour
A list of ALL our Gluten-Free recipes is found here.
All of our Gluten Free Coconut Flour Recipes