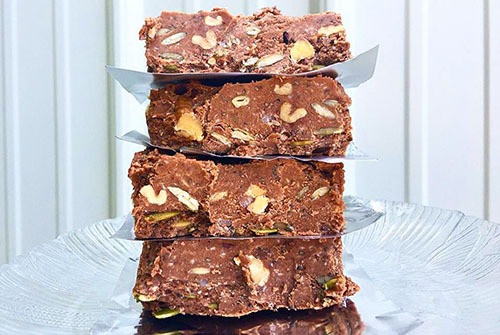 Bone Broth & Collagen Protein Bars
photo by recipe author
Servings: 12
Preparation Time: 10 minutes
2 cups coconut oil
3/4 cup raw pumpkin seeds
3/4 cup walnuts
1 tablespoon raw cacao nibs
4 tablespoons collagen powder
4 tablespoons bone broth protein powder
6 tablespoons chia seeds
1/4 cup raw honey
4 tablespoons cacao powder
2 cups peanut butter
1 cup unsweetened shredded coconut
pinch himalayan salt
Mix all ingredients together in a medium mixing bowl.
Pour into a 9×12 glass pan and allow to set up overnight in the fridge before cutting into bars and serving.
Keep in the fridge until ready to eat. They melt fast!
Orissa from Columbia, KY won $50 for this recipe and photo! Submit your recipes and photos here!