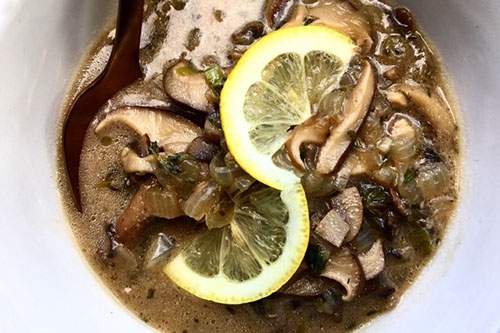 Thyme for Mushroom Stew
photo by recipe author
Servings: 4
Preparation Time: 25-30 minutes
1 pound mixed mushrooms, sliced (tough portion of stems removed)
1/4 cup coconut oil
2 medium onions, chopped
4 cloves garlic, minced
handful fresh thyme, leaves picked
1 cup beef broth
1 cup coconut milk
2 green onions, chopped
salt and freshly ground black pepper, to taste
1 whole lemon, sliced, for serving
Rinse and pat dry the mushrooms before slicing. Set aside.
In a large pot, on medium heat, melt the coconut oil. Add the onions and garlic to the pot and cook until soft, about 7 minutes.
Now add the mushrooms, sea salt and freshly ground black pepper, to taste. Cook mushrooms until soft.
Pour in the coconut milk and beef broth and whisk well. Allow to simmer for a few minutes and then toss in the thyme and green onions.
Serve with fresh slices of lemon to squeeze into the stew, if desired, this tangy pop of citrus brings the flavors forward.
Recipe and photo by Orissa. Submit your recipes and photos here for a chance to win $50!