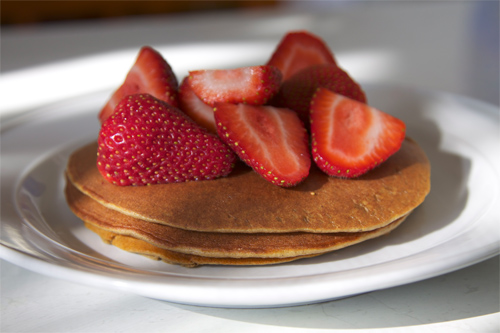 Banana and Coconut Pancakes Recipe
photo by recipe author
Servings: 2
Preparation Time: 30 minutes
Pancake mixture:
2 ripe bananas
4 free range eggs
1/4 cup almond meal*
2 tablespoons coconut flakes
1/4 teaspoon vanilla powder
1 teaspoon baking powder
*optional – 1 teaspoon nut butter (such as almond, hazelnut or sunflower seed)
Topping:
Add all pancake ingredients together in a bowl and mix with a stick mixer or whisk (if using a whisk, mash the bananas first).
Heat pan and add a little oil (don't let the pan get too hot, but hot enough to hear a gentle sizzling sound when you pour in the mixture). Pour in small amounts of mixture at a time. Wait for bubbles to form and pop and edges to harden slightly before attempting to turn. They should be a lovely golden brown. Top with berries and/or maple syrup.
Tips: In my experience, the less oil I use in the pan, the less the pancakes stick. Sometimes I just oil the pan slightly at the start and that's enough. It may depend on the pan. I use a heavy based frying pan.
*You can grind your own almond flour by placing whole almonds in a blender/food processor and blending until you get a fine meal.
Recipe submitted by Linda, Australia
Published on January 8, 2014