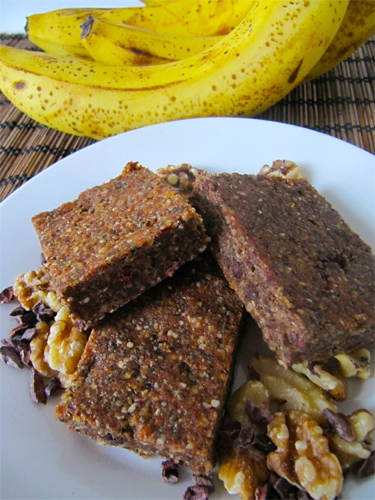 Chunky Monkey Super Omega-3 Energy Bars
photo by recipe author
Servings: 12 bars
Preparation Time: 10 minutes
1. Preheat oven to 350 degrees. Grease 8 x 8 baking pan with coconut oil and set aside.
2. Place all ingredients, except for cacao nibs (or chocolate chunks) into food processor and blend for 1-2 minutes, until mixture becomes similar to very fine (sticky) pebbles.
3. Transfer to medium-sized bowl and add cacao nibs/chocolate chunks, and gently combine.
4. Evenly spread mixture into greased 8 x 8 baking pan and bake for 30 minutes. Remove and allow to cool before cutting evenly into squares.
Recipe submitted by Kristen, Mattapoisett, MA
Published on May 25, 2012