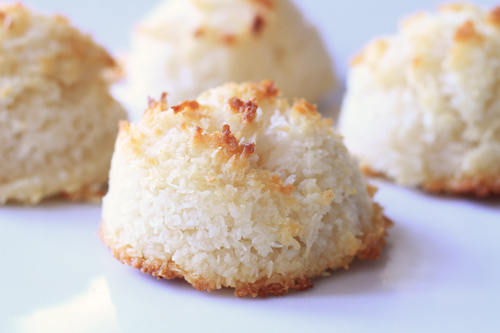 Classic Coconut Macaroons
Prepared by Sarah Shilhavy, Photo by Jeremiah Shilhavy
This recipe makes a classic coconut macaroon. It's a perfect addition to your Christmas cookie plate!
Servings: about 22 cookies
Preparation time: 10 minutes
Preheat oven to 350 degrees F.
In a medium bowl, combine coconut, extract, and salt. Stir in honey until well combined.
Beat egg whites until stiff peaks from. Fold into coconut mixture along with cream of tarter.
Scoop mixture firmly into a cookie scoop and press unto a greased cookie sheet as you drop it (the idea is to compact the balls). Bake for 10 – 15 minutes, or until browned.
Cool cookies on cookie sheet and dip into chocolate glaze if desired (recipe below).
Chocolate Glaze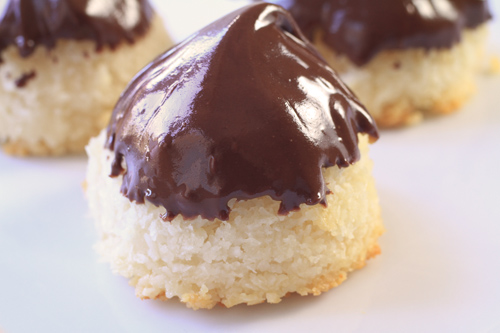 Classic Coconut Macaroons Chocolate dipped
Prepared by Sarah Shilhavy, Photo by Jeremiah Shilhavy
Combine chocolate, coconut oil, butter and syrup in a double boiler and melt gently. Once mixture is smooth add vanilla.
Recipe courtesy Sarah Shilhavy
Published on November 25, 2009