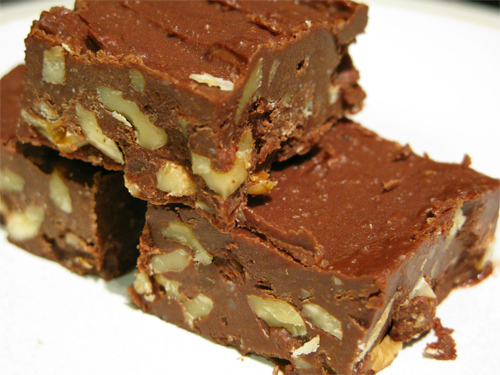 Coconut Oil Chocolate Walnut Freezer Fudge
photo by recipe author
Servings: 24
Preparation Time: 5 minutes, plus chilling
1. Whip coconut oil in the bowl of a standing mixer until fluffy (2-3 minutes).
2. Add cocoa powder and maple syrup and continue to whip until completely combined (about 1 minute, but you might need to scrape the sides a couple of times).
3. Add chopped walnuts and mix just to combine.
4. Spread into a 9″x9″ baking pan. Chill in the refrigerator until set (at least 1 hour). Cut into squares and enjoy (store in the fridge or freezer).
Recipe submitted by Sarah, Marietta, GA
Published on May 28, 2012