This recipe makes an excellent pie crust. It's flakey, tender, crunchy and buttery all at once.
The key is to keep the coconut oil and butter super cold and handle the dough as little as possible. Once you measure the coconut oil (and butter, if using) stick it in the freezer for a few minutes. Then, as you cut it into the flour and salt stop as soon as it begins to resemble irregular pea sized (or slightly bigger) clumps.
The water needs to be very cold, so use cold water with ice cubes. As you stir the water into the flour, stop once it forms into a crumbly dough. At this point turn it out unto a flour surface and knead just until it looks fairly smooth, but still shaggy (add a little more water if need be). At this point you can roll it out on parchment or wax paper dusted with flour, as I like to do since there's no worry of the dough sticking or breaking as you pick it up. Once you have it rolled out, just flip the paper over into the pan.
That is all. Pie crust is simple, but it takes practice to make a good one. The recipe below is simple and classic, and truly shows you that coconut oil makes the BEST pie crust ever! This recipe makes a delicious old fashioned pie crust – just the way grandma used to make it!
Enjoy!
Sarah:)
Coconut Oil Pie Crust Recipe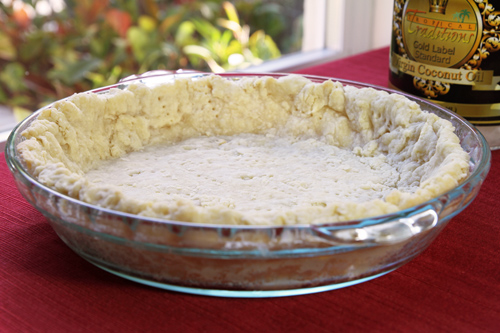 Coconut Oil Pie Crust
Prepared by Sarah Shilhavy – Photo by Jeremiah Shilhavy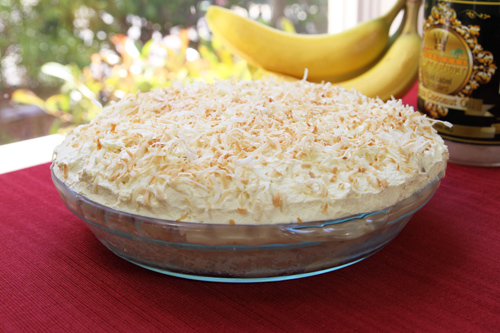 Coconut Oil Pie Crust filled with Coconut Banana Cream Pie
Prepared by Sarah Shilhavy – Photo by Jeremiah Shilhavy
This makes a delicious, flakey pastry and I have had many favorable comments on it.
3/4 cup fat (1/2 solid coconut oil and 1/2 butter or all coconut oil)
2 cups organic unbleached all purpose flour
1 teaspoon salt
3 – 4 tablespoons ice cold water
Cut the coconut oil and butter into the flour and salt with pastry blender or two knives. Add the water 1 tablespoon at a time and mix well.
Roll out on floured board. Pastry is very tender and may be partially rolled around rolling pin for ease of picking up to place in pie pan.
Recipe submitted by Charlotte, Salem, NH
Published on August 6, 2010