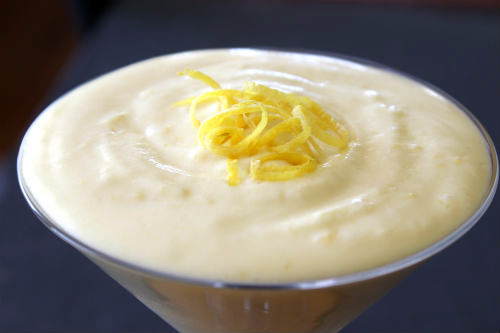 Dairy Free Lemon Mousse Recipe
photo by recipe author
Servings: 4
Preparation Time: 15 minutes
6 farm fresh eggs
2 tablespoons lemon zest (2 lemons)
4 tablespoons or more of fresh lemon juice (2 lemons)
1/4 – 1/2 cup liquid or granulated sweetener
1/2 cup coconut cream*
sea salt
Place the yolks, sweetener, zest and juice in a double boiler over a pot of boiling water. Whisk about 10 minutes until the mixture thickens.
Once it has thickened, place in the fridge for about half an hour to cool or the freezer for 10 minutes.
Place the egg whites in a bowl with a dash of sea salt and set aside. Place the cream in a bowl and beat it until it is whipped and stiff, set aside. Beat the egg whites with the salt until stiff peaks are formed.
Once the yolk mixture has cooled a bit, add it slowly to the cream and combine. Now fold in the egg whites into the yolk and cream mixture.
Once mixture is combined, spoon into serving dish and refrigerate to allow the mousse to set up.
Quick notes
*Coconut cream is the thick cream that settles at the top of refrigerated full fat coconut milk. For the freshest coconut milk make homemade coconut milk. (See video at this link.)
Variations
The lemon zest can be felt in the mouth, so if this texture bothers you, I'd suggest blending the yolk mixture with the cream in a blender. Then, pour mixture into a bowl to then fold in the egg whites. This recipe will work with limes or oranges as well. Amount of zest and juice may vary.
Recipe submitted by Kate, Highlands Ranch, CO
Published on July 31, 2013