I honestly don't know what exactly I was expecting when I baked these, but they weren't what I thought they'd be. They totally surprised me.
The texture is light, almost creamy, very coconutty, and moist. The "bite" and overall texture is like a wheat brownie. The appearance even, is just like a wheat brownie. Even the top baked up shiny and flakey. What's more, they popped right out of the glass pan without any fuss. I like that.
The batter will mix and come together easily if you soften the Coconut Cream Concentrate to peanut butter consistency first. It also helps to bring the eggs to room temperature as well. Depending on how warm your CCC is, you may or may not end up with stubborn little lumps that will refuse to totally mix in. Don't let it get to you. They'll still be delicious.
Mine have little lumps. And they're delicious.
I haven't tried the blondie version yet but I can assure you it's just as delicious as the brownies.
Which one will you make?
Sarah:)
Gluten Free Coconut Brownies (or Blondies)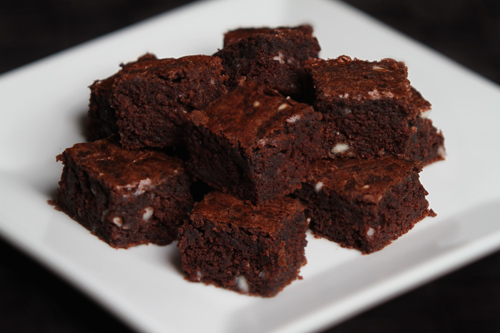 Gluten Free Coconut Brownies
Prepared by Sarah Shilhavy, Photo by Jeremiah Shilhavy
Servings: 18 squares
Preparation Time: 10 minutes
1. Pre-heat oven to 325 degrees (300 for convection oven). Grease a 9×9 or 12×8 pan.
2. In a large bowl measure out all ingredients and mix until combined. Pour into prepared pan and bake 20-25 minutes. Try not to over bake; the top will be slightly crispy and the middle is fudgey.
* I usually use 2 eggs to achieve a silky, ribbon-y look, but sometimes I have to use 3 eggs to completely emulsify the batter.
** I prefer a less sweet brownie, especially since I always put chocolate chips into my brownies, so I actually only use 1/3 cup of honey, but I find that when I bake for others they are used to a sweeter baked good.
***For Blondies, omit cocoa. This will have a stronger coconut flavor than the brownies.
Recipe submitted by Marisa, San Jose, CA
Published on May 3, 2010