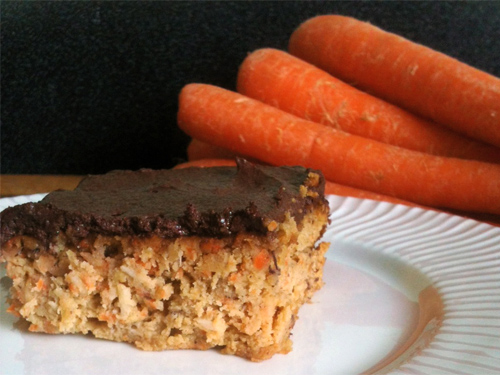 Gluten Free Coconut Flour Carrot Cake with Chocolate Frosting Recipe
photo by recipe author
Servings: 12
Preparation Time: 20 minutes
Carrot Cake:
Chocolate Frosting:
For the cake:
Preheat the oven to 350 degrees F. Grease a 9″x13″ glass baking dish.
In a large bowl, mix the coconut flour, cinnamon, shredded coconut and grated carrots. Set aside.
In a separate bowl, whisk the eggs and gradually add the sugar, beating to add volume. Smash the ripe banana into the egg mixture and continue to beat until smooth. Add in the crushed pineapple, applesauce and coconut milk. Stir to combine.
Add the wet mixture to the bowl with the coconut flour, and stir until smooth and clumps are gone.
Pour batter into prepared baking dish and bake for 45-50 minutes. Let cool completely before icing.
For the frosting:
In a standing mixer or with a hand mixer, beat butter, cocoa and sugar until lumpy and just coming together. Add sugar as needed. Slowly add vanilla and coconut milk one tablespoon at a time. Beat on high speed until light and fluffy.
The cake is very moist and should be stored in the refrigerator.
* For the freshest coconut milk make homemade coconut milk. (See video at this link.)
Recipe submitted by Taylor, St. Augustine, FL
Published on July 28, 2012