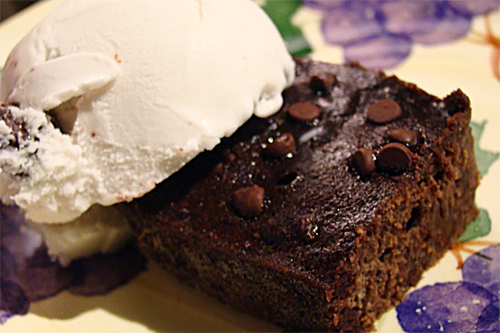 Gluten Free Mint Carob Semisweet Brownies
Photo by recipe author
Servings: 12
Preparation Time: 10 minutes
Preheat oven to 350 degrees F.
In a small saucepan, melt coconut oil. Once melted stir in carob powder and allow to cool slightly.
In a medium bowl, whisk together eggs, maple sugar, and extracts until smooth. Add carob mixture and whisk until smooth. Slowly add coconut flour and beat until smooth. Add chocolate chips and stir until just combined.
Pour mixture into an 8×8 square baking pan lightly greased with coconut oil. At this point, you may sprinkle the top with additional chocolate chips, if you desire.
Bake in preheated oven for about 25 minutes, until done. Allow to cool in the pan before cutting.
Recipe submitted by Katrina, Tampa, FL
Published on October 11, 2010