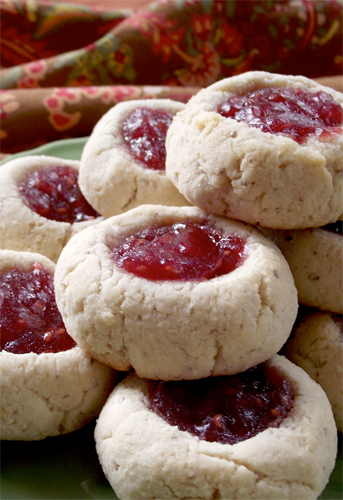 Gluten Free Scandinavian Thumbprint Cookies
photo by recipe author
Servings: 12 cookies
Preparation Time: 20 minutes
1/4 cup coconut oil, liquified
3 tablespoons honey
1/4 cup applesauce
1 tablespoon Chia Seed meal (1 tablespoon meal is equal to about 1/2 tablespoons seeds)
1/2 teaspoon vanilla extract
1/3 cup tapioca flour
1/3 cup almond meal/flour*
1/3 cup coconut flour, sifted
Preheat oven to 350 degrees F.
Add the oil, honey, applesauce, chia seed meal, and vanilla to a bowl and mix with an electric mixer. Then add the tapioca flour, almond flour, and coconut flour. Mix again.
Roll into little balls and place on unbleached parchment paper.
Use your fingers to create an indentation and fill it with raspberry or strawberry jam. Bake in preheated oven for about 15 minutes
*To make your own, simply blend whole almonds in a blender just until a meal forms.
Recipe submitted by Kelly, Longmont, CO
Published on December 10, 2010