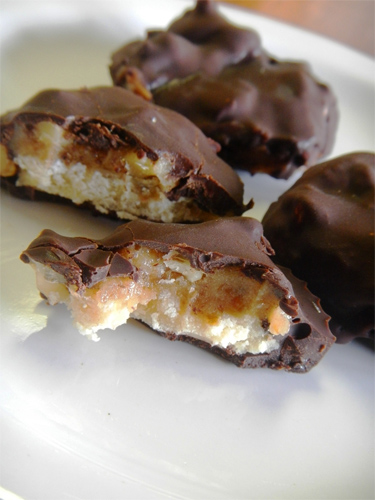 Goo Goo Clusters Recipe
photo by recipe author
Preparation Time: 45 minutes
Servings: 12
Chocolate Coating:
Step 1: Line a muffin pan with 12 paper baking cups. Gently melt coconut oil, and stir in cocoa powder and maple syrup. Once melted use a tablespoon to pour 3/4 – 1 tablespoon melted chocolate into the bottom of each paper muffin cup. Put in the freezer to firm up while you make the other layers. Save the remaining chocolate for coating the candies at the end!
Coconut Marshmallow Layer:
Note: This will easily make twice the amount of the coconut layer than you need, but I find it hard to blend only 1/2 a cup coconut properly. Just form coconut macaroon cookies with the remaining batter. OR, you can attempt to make a half batch of this with your food processor.
Step 2: Blend 1 cup dried coconut in your food processor for a one to two minutes until it is finely broken down. Add in maple syrup, coconut oil, vanilla, and salt, and blend for another minute or two. Form little balls of the coconut mixture with your hands and mash down onto the chocolate layer in the muffin cups.
Caramel Gooey Layer:
Step 3: Blend all ingredients for up to 2 minutes until you have a sticky caramel. Spoon on a little bit of the caramel over the coconut layer, then add the nuts below.
Nut Layer:
1/2 cup rough chopped raw walnuts
Push your chopped nuts into the caramel layer, and then spoon over the remaining melted chocolate from above! Put into the freezer for 20 minutes or so. Enjoy!!
These candies should be stored chilled in the freezer or fridge.
Recipe submitted by Andrea, Willamina, OR
Published on September 30, 2013