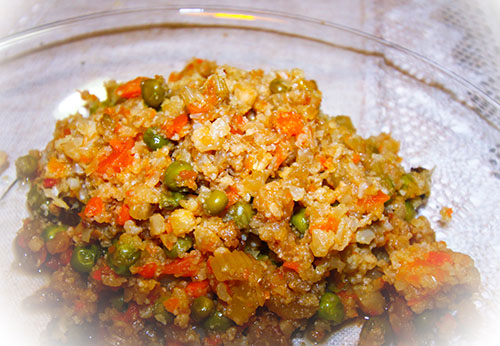 Grain Free Cauliflower Fried Rice
photo by recipe author
Servings: 10-12
Preparation Time: 15 minutes
8 quart pot
4 teaspoons coconut oil
1 large yellow onion
4 carrots
6 sticks celery
8 ounces mushrooms
1 pack frozen peas
4 large garlic cloves
3 medium/large heads cauliflower
8 ounces fermented soy
Coat the bottom of a large deep pot with coconut oil. Then chop the onion, carrots, and celery, add these to the pot.
Next add the mushrooms and peas to the pot. Dice the garlic and add that to the other veggies in the pot. Let those veggies cook in the coconut oil for about 5 to 10 minutes on medium hight heat.
Then add the 3 heads of cauliflower to your blender and dice up into rice size pieces. Next add it to the rest of the veggies then pour about 4 fluid ounces of the fermented soy sauce into the pot and let cook for 45 minutes on medium heat, stirring occasionally.
Allow to cool and enjoy.
Kurt from Prescott, AZ won $50 for this recipe and photo! Submit your recipes and photos here!
Featured Product
Gold Label Virgin Coconut Oil
Hand-made in small batches – not mass-produced by machine

Wet-milled from fresh coconut milk

High heat used to extract antioxidants (why cold-pressed is NOT best)

Tested for the herbicide glyphosate
Published on March 14, 2018