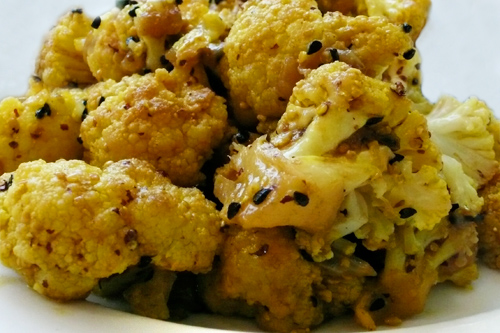 Mustard Seed Cauliflower Stir-fry
Photo by recipe author
An easy, tasty, vegetarian treat
Servings: 6-8
Preparation Time: 30 minutes
2 teaspoons yellow mustard seeds
2 teaspoons brown mustard seeds
1 teaspoons turmeric
1 teaspoons tamarind puree*
1/2 cup water
2 tablespoons coconut oil
1/2 onion, finely chopped
3 shallots, finely chopped
1 head cauliflower, divided into florets
1 chopped seeded green chili
2 teaspoons nigella seed**
Grind together yellow and brown mustard seeds and mix in the turmeric, tamarind puree and water. Blend all of this together into a nice liquid paste.
Heat the coconut oil in a deep skillet or kadhai. When hot, toss in onion and shallots. Stir fry until slightly golden then start adding the cauliflower. Once it starts to brown, add the green chili; cook it until it browns. Stir in the ground mustard seed mixture and nigella.
Turn heat up to medium. When the liquid in the pan comes to a boil, turn it back down all the way to low and cover the pan until the cauliflower is nice and tender and the sauce is dry.
If you need to add more water during the cooking process, that's fine (to prevent burning or sticking). If the cauliflower is too wet once it's done, turn the heat up a bit and boil it off. Add salt to taste and you're done.
*NOTE: if you don't have tamarind puree, I've found that lemon juice can be a substitute. Tamarind puree is easily found at most Asian or Hispanic markets.
**Also known as kalonji seed, black onion seed and black cumin seed.
Recipe submitted by Kathy, Sonoma, CA
Published on September 20, 2010