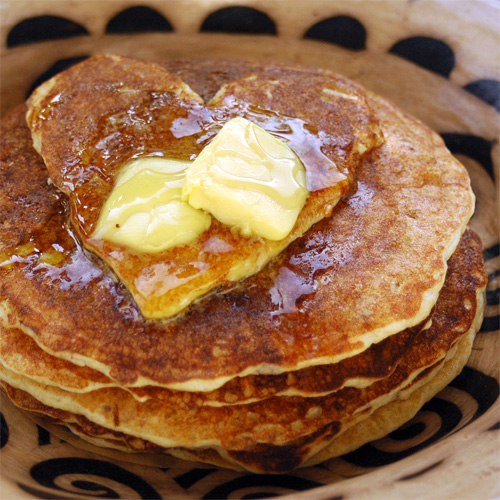 Oatmeal Cinnamon Raisin Pancakes
Photo by recipe author
Preparation Time: 15 minutes
Servings: about 12-24 pancakes
The day before:
The next day add:
The day before:
Put oats and flour into a large bowl, add the buttermilk. Let them soak in the buttermilk overnight or up to 24 hours.
The next day:
Mix in the eggs, baking powder, salt, cinnamon, nutmeg, coconut oil, honey and raisins.
Heat a flat iron surface – griddle or large pan – to medium high heat. Oil the pan with coconut oil… make sure to turn down the heat if it gets too hot. Ladle the pancake batter onto the griddle to the size you want. When air bubbles start to bubble up to the surface at the center of the pancakes (about 2-3 minutes), flip them over. Take a peek under them for doneness in a minute or so. When golden or darker golden brown, they are done.
Remember that cooking the second side takes shorter time then the first side and the second side doesn't brown as evenly as the first side. Serve immediately or keep warm in the oven until ready to serve.
Dress up your pancakes with butter, maple syrup or honey and your choice of fruit if desired.
Recipe submitted by Marillyn, Bloomingdale, IL
Published on January 2, 2010