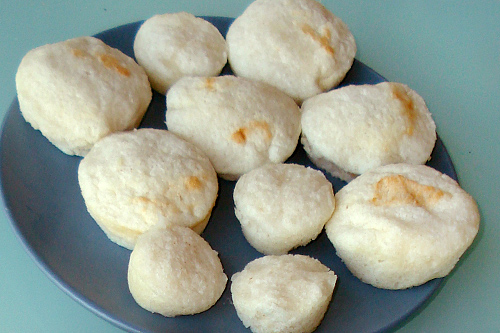 Puto
photo by recipe author
Servings: 2 1/2 dozen muffin-sized
Preparation Time: 19 hrs w/ soak time
2 cups rice
1 1/2 cups coconut milk*
1/2 cup coconut water (or filtered water)
1/2 cup maple syrup (or 1 cup if you like it sweeter)
2 tablespoons baking powder
1/2 cup coconut flour
4 egg whites
1 tablespoon maple syrup
Soak rice in coconut milk and coconut water for at least 18 hours on the counter in a covered glass container. I use a large fermenting jar. I occasionally would shake the liquid to make sure all the rice is soaked in to the coconut flavor. When finished soaking, place all the rice and liquid in a blender and grind to a gritty batter. Grit should be as fine as possible.
Preheat oven to 350 degrees F.
Pour contents of blender into a bowl and add coconut flour, maple syrup, and baking powder. Mix well and set aside.
In a mixing bowl beat the egg whites until stiff. Fold in 1 tablespoon maple syrup and then re-whip the egg whites until again stiff and fluffy. Fold (keeping the egg white fluff as much as possible) the egg white mixture into the batter. Do not over mix but make sure the batter is not lumpy with clumps of egg white. It should look uniform.
Butter muffin pans or use paper lining and add the batter and fill 3/4 to the top. You can also use a cake pan, for any extra remaining batter.
Place everything in a steam bath covered with foil and bake for 20 minutes. If using a cake pan, it may take longer.
When finished, remove the foil immediately to prevent the condensation from ruining your Puto. Let cool for about 10 minutes. Store in a covered container in the refrigerator.
Recipe submitted by Jennifer, Hagerstown, MD
* For the freshest coconut milk make homemade coconut milk. (See video at this link.)
Published on August 10, 2011