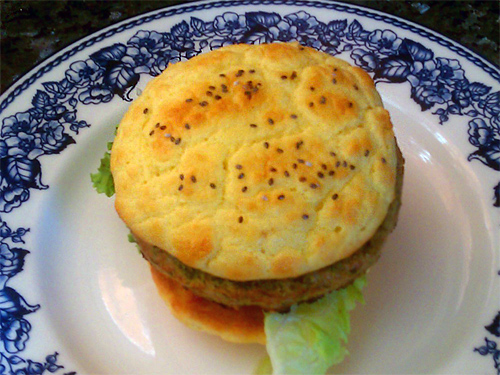 Single Gluten Free Burger Bun
photo by recipe author
Servings: 1
Preparation Time: 10 minutes
Ingredients for one single bun:
Optional:
1 teaspoon nutritional yeast
1/4 teaspoon poppy seeds, chia seeds, sesame seeds
Preheat oven to 350 degrees F.
Add all ingredients and blend together using a hand blender or small food processor. Let the batter settle for a few minutes to thicken.
Split the mixture into two and spoon onto oiled parchment paper to make two 3-inch diameter pools of batter. Top with additional seeds if desired.
Bake in preheated oven for 10 minutes.
Use each piece as top and bottom of a burger bun.
While it is baking you can throw your burger on the grill. If you're lucky the burger will be done by the time the bun is cooked!
Recipe submitted by Mandy, Denver, CO
Published on May 25, 2011