This is a great quick and easy dessert for those "oh-my-goodness-I-need-to-make-a-dessert-and-I-have-less-then-an-hour-to-make-it!" moments. Its prep will be done in five minutes, chill time can be as quick as half an hour or less (stick it in the freezer) and it's no bake, no cook, rich, creamy, and naturally dairy free and gluten free. Sounds pretty good huh?
The texture is great: a lot like fudge. Firm and silky, yet it melts in your mouth as soon as you take a bite. It's very creamy too; you'd never know it didn't have a speck of dairy in it.
The crust is a nice touch. I like using pecans. It adds a tiny bit of crunch, and the strong nutty flavor of the pecans stand out, yet infuses nicely with the strawberry vanilla cream. When making this part, be sure to blend just until it turns into a meal (the video will show you how). If you blend too long you could end up with a nut butter!
With all that said, I'll admit that I do NOT like nuts. So this is saying a lot. It doesn't taste like cashews at all.
The taste of the pie is all in the quality of ingredients you use. Use raw, unsalted organic cashews, high quality alcohol-based vanilla extract, and fresh, perfectly ripe organic strawberries and Tropical Traditions' creamy raw honey and coconut oil and (Gold Label for a coconut taste, Expeller Pressed for no coconut taste). Don't skimp on anything here; use the highest quality stuff you can get.
And last but not least, let the video take you through the recipe step by step, and enjoy a slice of the pie yourself. You'll have to make it, of course. I'm not sharing.
Sarah:)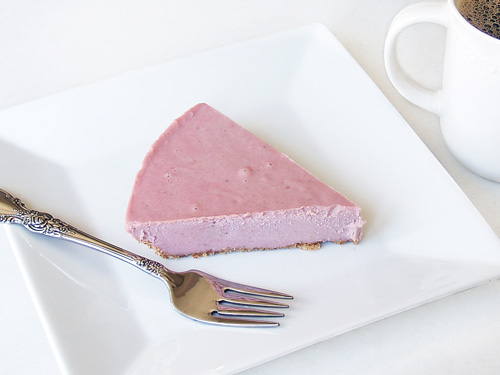 Dairy Free and Gluten Free Strawberry Cream Pie
Prepared by Sarah Shilhavy, Photo by Jeremiah Shilhavy
---
Preparation time: 5 minutes
Servings: 8 servings
Crust:
3/4 cup crushed pecans or walnuts
Filling:
Grind crust ingredients in food processor and press into bottom of a 9 inch pie plate, building up the sides slightly.
Place all filling ingredients into blender and blend until smooth and creamy. Carefully pour on top of crust and refrigerate for 3 hours.
Recipe submitted by Christel, Plantation, FL
Published on June 15, 2010