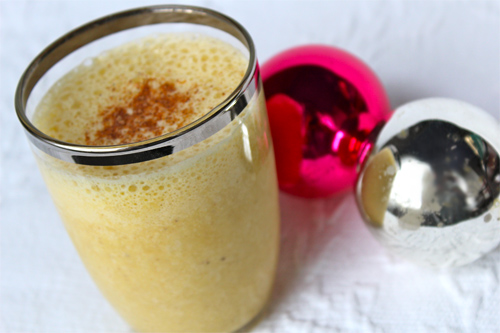 Coconut Eggnog Smoothie
photo by recipe author
A holiday treat you can feel good about! Rich, creamy, delicious taste with no added sugar (the bananas and coconut give it a wonderful, delicate sweetness), packed with nourishing protein, good fats and nutrients for a quick breakfast or mid-afternoon snack, satisfying to your body and your senses. Or serve it to your guests, they'll never guess how healthy it is!
Servings: 4
Preparation Time: 5 minutes
Blend all but the bananas until thoroughly mixed, add frozen bananas and blend until smooth. Serve immediately with an extra sprinkle of nutmeg on top. Enjoy!
* For the freshest coconut milk make homemade coconut milk. (See video at this link.)
Recipe submitted by Lydia, Salem, VA
Published on December 21, 2011