Because February is the month of chocolate (and that other thing) I wanted to come up with a recipe that was both insanely rich, chocolaty, and gluten free, so no one gets left out and grumpy.
This brownie pudding took me a few tries to get just right. The first time it turned out to be more of a soft, and very fudgy brownie that had a little too much butter. Not bad, but not at all what I wanted. It was gone by morning. I'm still not entirely sure what precisely went wrong (probably more than one) but I blame the tap water, which burns with the heat of a dozen tiny volcanoes. Basically, the water for the water bath was too hot, and the dessert baked faster than it should have.
I debated on what to do on the next attempt, besides reduce the heat of the tap water to the heat of half a tiny volcano. It was indeed insanely rich, but was it too rich? The fact that it was so easily over-baked past the pudding stage means it's pretty finicky, and finicky equals many failed first-time attempts, and many failed attempts means many grumpy people. No one wants that. With that in mind, I made the decision to incorporate the technique used to make pudding cake: boiling water on top of the batter. This would ensure that there would definitely be pudding, and less chance of over-baking the dessert into brownies (not exactly a bad result, but not what we want). The only potential con was that it wouldn't be as rich.
Nix that idea. What resulted was a strange pudding layer that didn't stay in pudding form very long. Plus, the brownie part wasn't as fudgy and smooth. I didn't like it, and it did take longer than the first to disappear.
Finally at the third try, I decided what the batter needed was more of a reason to stay custard-y, much like a flourless chocolate cake. That meant more egg. So with one extra egg added, baking time watched closely, and the water at the heat of half a tiny volcano, I gave it a third go. It was perfect. However, I attribute the success more to the water and the baking time; the egg is merely a luxury addition that acts as a safety net for the pudding texture. I know some of you absolutely hate using many eggs in a recipe. If you really must, 4 eggs will do. But if you can, don't.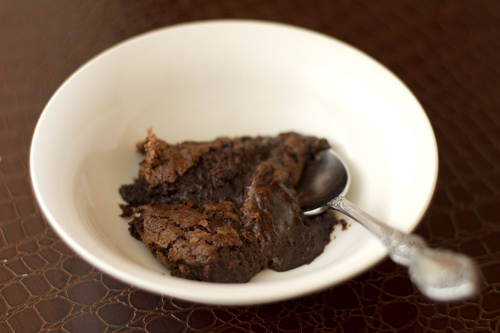 Gluten Free Brownie Pudding Recipe
Prepared by Sarah Shilhavy
Photo by Jeremiah Shilhavy
Servings: 8
Preparation Time: 10 minutes
Preheat oven to 350 degrees ºF. Grease a 2 quart baking dish with coconut oil.
Melt butter over low heat. Set aside to cool. Mix flours together.
Beat eggs and sugar with an electric mixer on medium speed until thick and slightly lighter in color – 1-2 minutes. Add cocoa, vanilla and flour mix. Mix well. Slowly pour butter in while mixing at low speed until well combined.
Pour mixture into prepared dish, place into a 9×13 inch pan and fill pan with hot tap water to come about half way up the sides of the quart dish. Bake in preheated oven for 30-40 minutes. Edges should be firm but middle should jiggle and look very underbaked.
Cool and serve with freshly whipped cream, ice cream or as is.
Recipe courtesy Sarah Shilhavy
Published on February 14, 2014