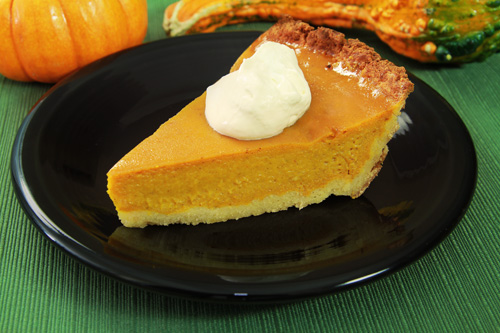 Gluten-Free Pumpkin Pie
Prepared by Sarah Shilhavy, Photo by Jeremiah Shilhavy
Preheat oven to 425 degrees F. Prepare pie crust.
Place pumpkin and spices into a small saucepan and heat gently over medium low heat, stirring constantly. Heat just until slightly warmed through.
Place the eggs and sweetened condensed milk into a bowl and add pumpkin. Whisk to combine and pour into prepared crust.
Bake for 13 minutes. Reduce temperature to 350 and bake for another 35 – 40 minutes or until knife inserted 1 inch from crust comes out clean. Cool completely and store in the refrigerator.
Coconut Flour Pie Crust
In a medium sized bowl cut the butter and coconut oil into the coconut flour until mixture resembles irregular pea sized clumps. Add remaining ingredients except egg white. Mix together with your hands until a soft dough has formed. Pat dough into a 9 inch pie pan. When you are done forming the crust, take the egg white and beat it with a fork until frothy. With a pastry brush, brush the crust with the egg white just before filling.
* You can make your own sweetened condensed milk
with our recipe here.
Submitted by Sarah Shilhavy
Published on November 17, 2009