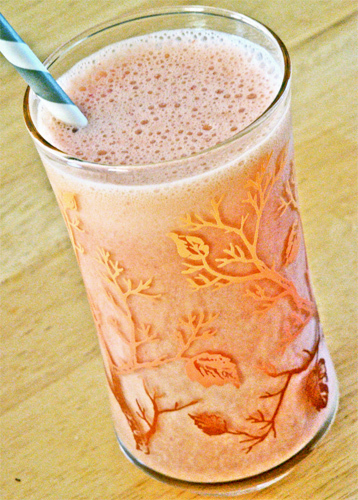 Strawberry Lemon Coconut Smoothie
photo by recipe author
A quick, delicious and nutritious breakfast or afternoon snack that feels like an indulgent treat, but is completely nourishing and, through the eggs and coconut oil, provides long lasting energy and satisfaction!
Servings: 2
Preparation Time: 5 minutes
1 1/2 cups organic raw milk, plain kefir or milk of choice
1 tablespoon raw honey
1-3 tablespoons coconut oil (melted)
1-2 cups organic frozen strawberries (depending on desired consistency)
1/2 teaspoon organic pure vanilla extract
1/4 teaspoon organic lemon oil flavoring
dash salt
Thoroughly blend first four ingredients, add final four ingredients and blend until smooth. Enjoy immediately.
Recipe submitted by Lydia, Salem, VA
Published on October 5, 2011