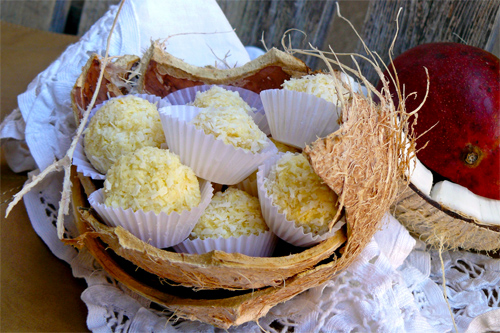 Tropical Cheesecake Truffles
photo by recipe author
Servings: 5
Preparation Time: 10 min/chill 60 min
8 oz cream cheese
2 tablespoons honey
2 oz raw ripe mango
1 inch vanilla bean
3 oz dried coconut for rolling
Let the cream cheese soften at room temperature.
In a large bowl, mix the mango, vanilla bean, honey and cream cheese using a whisk or an immersion blender. Place the mixture in the freezer for 5 minutes. This will allow the cream cheese mixture to harden and then let you shape into small balls.
In a soup bowl, place 3 oz dried coconut. Shape cheese into truffle (ball) shapes, roll in the coconut and place in individual candy cups or directly on a plate. Chill in the fridge for 60 minutes and enjoy.
Recipe submitted by Galya, RSM, CA
Published on April 13, 2011