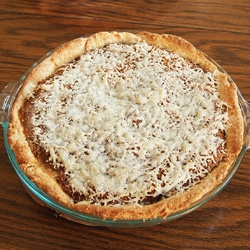 Prepared by Sarah
Shilhavy
Photo by Jeremiah Shilhavy
Just on a whim, my Mom decided to do something really creative with the leftover grass-fed rump roast from last week: Grass-fed Meat Pie. Mom's good at that! She comes up with an idea and gets to work on it (she hardly ever follows or uses a recipe, or measures for that matter!) Her ideas always turn out, and I can never quite figure that out. This one wasn't any different.
It's always important to us that our leftover grass-fed meats don't go to waste since they're high quality rare meats and very expensive (see GrassfedTraditions.com)! Just reheating it and serving it as is can get pretty boring though, so Mom's always finding creative and tasty ways to reuse it.
The pie crust is a baking powder biscuit type of dough. That was the only part of the whole pie that was actually from a recipe, and guess who made that part? 😀 The filling was almost like a quiche batter with sautéed rump roast, 2 eggs and a few other things. Mom then topped it off with bread crumbs and baked it. About three minutes before it was done, she topped it off with shredded cheese and continued baking until the cheese was melted and browned.
The end result was delicious! The crust baked up like a fluffy biscuit and the filling was wonderfully moist and savory. You would never have known it was a "leftover dish" or that Mom had never made it before! She just made it up on the fly, and it made a great dinner served with tossed salad and fresh peaches.
While Mom didn't use any measuring guides when she made the pie, she knows approximately how much of everything she used and therefore I have a written recipe for the Grass-fed Meat Pie, (which can be used with any leftover meat).
So tell me, what creative things do you do with your leftovers? Please share with me in a comment below!
Grass-fed Meat Pie
Crust:
2 1/4 cups flour
2 1/4 teaspoons baking powder
1 teaspoon salt
2 tablespoons butter, cold
2 tablespoons coconut oil, cold
3/4 cup milk
Filling:
5 cloves garlic, minced
1/2 cup onion, chopped
3 tablespoons coconut oil
2-3 cups rump roast, shredded
1 cup chopped mushrooms
1/4 cup beef broth or rump roast drippings
1 tablespoon cornstarch
2 eggs, beaten
1 cup shredded cheese of choice (more or less to taste)
1/2 cup bread crumbs
Crust:
Place flour, baking powder, and salt into a bowl. Cut with a pastry cutter until mixture resembles fine crumbs.
Make a well in the center of the dry ingredients and pour in 1/2 cup of milk all at once, stirring to combine. Mix in just enough of the remaining milk to create a soft dough.
Turn dough out unto a lightly flour surface and knead 3 times. Roll out unto a circle big enough to fill a 9 inch glass pie plate.
Place dough in pie plate and refrigerate until needed.
Filling:
Preheat oven to 375 degrees F.
Sauté garlic and onion in coconut oil until caramelized. Add shredded rump roast, mushrooms, salt and pepper. Sauté mixture for 3 minutes. Remove from heat and transfer to a bowl.
Mix beef broth with cornstarch. Add to pot roast mixture and mix in the eggs. Pour mixture into prepared crust and sprinkle 1/2 cup of cheese evenly over the mixture. Sprinkle breadcrumbs over the top.
Bake pie in preheated oven for about 30 minutes. Add remaining cheese and continue baking until cheese is melted and browned.
If you have any questions please feel free to ask. 🙂
Posted by Sarah Shilhavy
Published on August 22, 2009