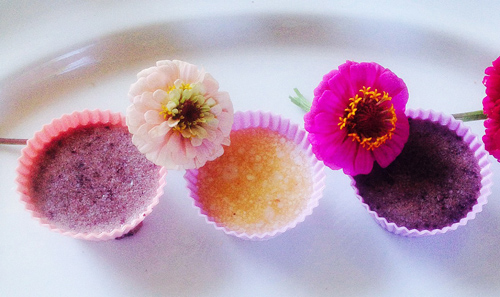 All-Natural Jello Fruit Cups with Coconut Oil
photo by recipe author
Servings: about 10
Preparation Time: 15 minutes
1 cup water
3 teaspoons unflavored natural gelatin
1 tablespoon whole sugar, optional
2 tablespoons coconut oil
1/2 cup fresh fruit of your choice
Heat half of the water then add gelatin and sugar, stirring until dissolved. Add coconut oil and mix vigorously until all oil is melted.
In blender, mix fruit and the other half of the water, blend to a smooth paste. (For this recipe, one batch was made with peaches, and the other batch was made with blueberries.)
Add fruit puree to gelatin mixture, and mix well. Pour into individual serving cups, like cupcake molds.
Refrigerate overnight or until firmly set-up. Eat with a spoon, enjoy!
Recipe by Lynelle. Photo by Marijah. You could win $50 for submitting your own coconut recipes and photos! Submit recipes here!
Published on August 7, 2015