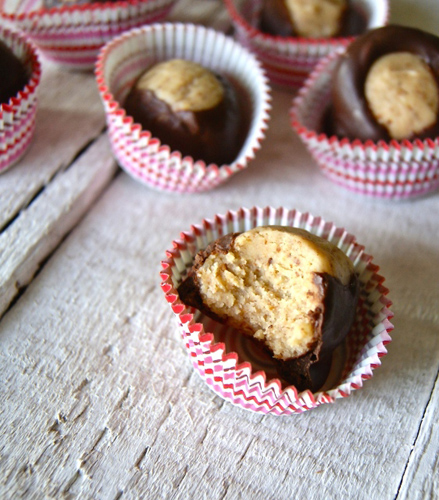 Almond Butter Buckeyes
photo by recipe author
Servings: 20
Preparation Time: 25 minutes
Place coconut cream concentrate, almond butter, 1/4 cup coconut oil, salt, vanilla, and honey in a small saucepan and heat over low heat, stirring constantly, until melted and smooth.
Refrigerate  for 20 minutes, or until it is firm. Shape the filling into approximately 20 balls. Place the formed filling back into the refrigerator to firm up completely.
Heat the dark chocolate and remaining coconut oil over a double boiler on low heat, stirring until melted and smooth.
Insert a toothpick into each ball and partially dip into the chocolate. Place on waxed paper or aluminum foil. After all of the candies are dipped, refrigerate until completely firm.
Note: The flavor and texture of these is best served at room temperature, but if you are transporting these or giving them as a gift they will hold up better if chilled.
Angela from Longmont, CO won $50 for this recipe and photo! Submit your coconut recipes and photos here!
Published on August 24, 2015