Almond Chocolate Chip Coconut Cookies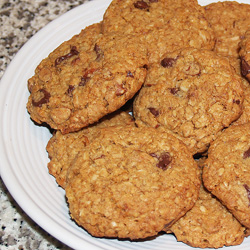 Almond Chocolate Chip Coconut Cookies
Prepared by Sarah Shilhavy
Photo by Jeremiah Shilhavy
Place the oats in a food processor or blender and process until the oats are in smaller pieces, but not until fine like flour.
Preheat oven to 375 degrees.
Cream butter & coconut oil. Add sugars, beat until fluffy. Beat in eggs and vanilla. Set aside.
Mix all dry ingredients (don't forget to process the oats) and then add to creamed mixture. When combined, add coconut, almonds, and chocolate.
Roll dough into balls and place on cookie sheets. Bake in preheated oven for 6 minutes, flatten with spatula, and bake for 5 minutes longer.
Remove from oven, let cookies cool on pan for 2 minutes, then remove to wire rack and cool.
*You may use all dark chocolate if desired.
Recipe submitted by Tammy, New Gloucester, ME
Published on October 15, 2008