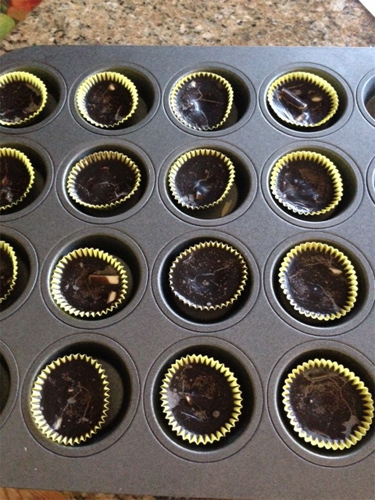 Almond Coconut Oil Chocolate Recipe
photo by recipe author
Servings: 30-36 pieces
Preparation Time: 20 minutes
You will need 3-4 silicone ice cube trays or petite fours papers with a mini muffin tin.
Melt coconut oil, add maple syrup, slowly add cocoa powder (I use a small strainer or sifter to get any lumps out), and stir well until smooth. Stir in vanilla extract.
Place desired amounts of shredded coconut and almonds in the bottom of a silicone ice cube tray or in small petit-fours papers in a mini muffin tin. Pour the chocolate mixture into the tray or papers, filling 3/4 full.
Place in freezer for fast set up, or in refrigerator overnight. Keep in the refrigerator when not serving to maintain firmness.
Notes:
If doing Weight Watchers, and using the petite-fours papers, these have about 2 points each. They will vary in size and points if using silicone ice cube trays.
Recipe submitted by Rebecca, Aurora, OH
Published on November 4, 2013