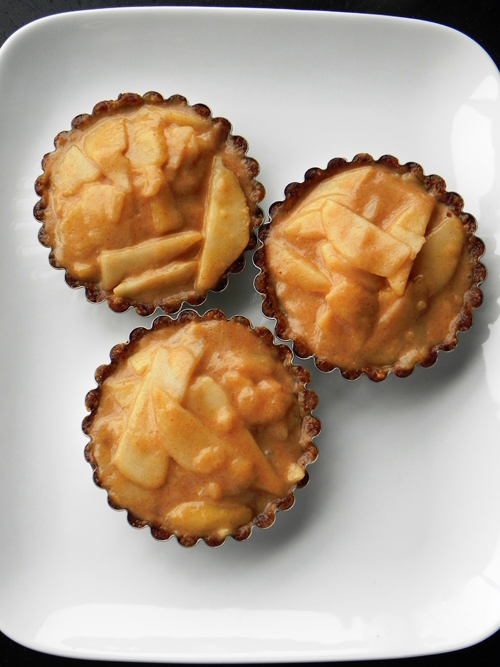 Almond Pear Tartlets with Cinnamon-Caramel Cream Recipe
photo by recipe author
Servings: 6 (3 tartlets)
Preparation Time: 20 minutes
For the crusts:
3/4 cup almond flour (or ground almonds)
1/2 cup pitted dates
Big pinch of salt
For the filling:
2/3 cup almond milk (or any other nondairy milk)
1/3 cup pitted dates
1/2 teaspoon lemon juice
1/2 teaspoon vanilla extract
1/4 teaspoon ground cinnamon
1/8 teaspoon ground ginger (optional)
Pinch of sea salt
1 tablespoon melted coconut oil
2 large, ripe pears, peeled, cored, and thinly sliced
To make the crusts, combine the almond flour, dates, and salt in a food processor and pulse until well combined. (If the mixture doesn't quite come together, add 1/2 tablespoon of water and process again.) Divide the mixture between three 4-inch mini tart pans, pressing it firmly and evenly onto the bottoms and sides of each pan. Place the crusts in the refrigerator while you make the filling.
To make the filling, combine the milk, dates, lemon juice, vanilla, cinnamon, ginger, and salt in a high-speed blender and blend until completely smooth. With the machine running on low speed, stream in the coconut oil; blend again until smooth.
Place the thinly sliced pears in a medium bowl, add the caramel sauce from the blender, and toss/stir to coat. Remove the crusts from the fridge and divide the pear-caramel mixture among them, heaping the pears into each crust until almost overflowing. (If there is any remaining caramel sauce, enjoy it with a spoon or save it for another use.) Place the filled tartlets in the fridge and let chill for 2 to 4 hours, or until the filling is set.
Recipe submitted by Amber, Kansas City, MO
Published on November 2, 2012