Scones are always a tasty treat for breakfast, but they can be a bit of a hassle in the morning when all you want is a quick and easy breakfast. But these Apple Cinnamon Scones take the hassle out of making this breakfast treat. The dough can be prepared from 1 hour to a day in advance. I made mine the night before and in the morning all I had to do was cut, dip and then bake them. No mess, no hassle, and no need to rush around like crazy to get everything done on time.
They were very tasty, but too dry for my taste. It was that typical dry, slightly flaky scone texture. I guess some people like it that way but I don't. If you don't either, use more than 1 cup of grated apple (I found that 1 regular sized apple was more the 1 cup, so use about 1 and 1/2 apples or to taste) and add another egg. Depending on the total amount of flour you use (which will always vary if you're measuring with cups) you may have to add a tad bit more milk during the mixing. I added about 1 tablespoon more.
Other then that, they were great! I liked the cinnamon sugar topping and also how the apples infused the scones. They're healthy too! Made with whole wheat flour (I used whole wheat pastry flour) and coconut flour, these scones have extra fiber and tenderness from the coconut flour. All you'll need next is some butter and jam.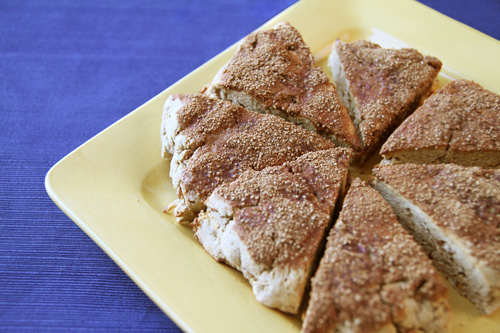 Apple Cinnamon Scones
Prepared by Sarah Shilhavy, Photo by Jeremiah Shilhavy
Apple Cinnamon Scones
Servings: 8 Scones
Preparation Time: 15 minutes plus 1 hour to 1 day of chilling
1 cup grated or finely chopped tart apples (Granny Smith or Jonagold work well)
1/4 cup plus 2 tablespoons whole sugar
1 tablespoon ground cinnamon
1 cup whole wheat flour
1 1/2 tablespoons baking powder
1/2 tablespoon baking soda
1/2 teaspoon salt
6 tablespoons coconut oil, solid
1 egg, separated
1/2 cup whole milk, more if needed
In small bowl combine apples with 2 tablespoons sugar and 1 tablespoon cinnamon. Toss to coat apple pieces.
In medium bowl combine flours, baking powder, baking soda, 1/4 cup sugar, and salt. Cut in coconut oil until mixture is coarse and crumbly. Beat egg yolk with milk. Add to flour mixture.
With an electric mixer fitted with the paddle attachment, mix until a loose "dough" forms (approx. 2 minutes). Add an extra tablespoon or so of milk if needed. Mix in apple pieces. Dough will be loose and sticky.
Form dough into a flat 6-inch round disk and wrap in parchment paper. Place in a tightly sealed zip lock bag. Refrigerate 1 hour. Dough also holds well if made a day in advance and refrigerated.
Preheat oven to 375 degrees F. Grease a jelly roll or cookie sheet with coconut oil.
Cinnamon Sugar Topping
Beat egg white with milk.
In shallow plate, combine sugar with cinnamon. Remove dough from fridge and cut into 8 equal wedges. Brush top and sides with egg mixture. Dip top of scone into sugar mixture. Place scones 2 inches apart on greased sheet.
Bake 25-30 minutes, until tops are slightly brown. Serve warm.
Recipe submitted by Tammy, Union City, TN
Preparation by Sarah Shilhavy
Published on December 1, 2009