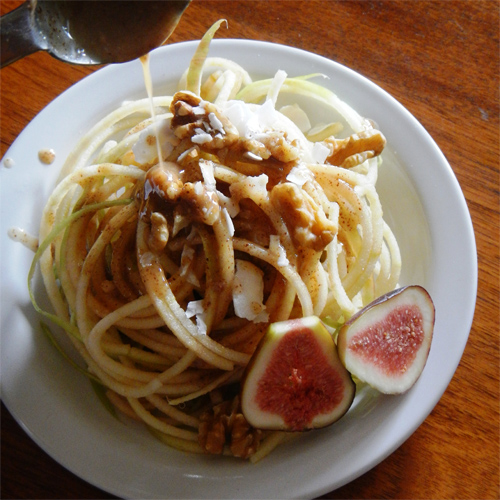 Apple Pie Pasta Recipe
photo by recipe author
Servings: 2
Preparation Time: 10 minutes
Caramel Sauce:
2 tablespoons melted coconut oil
2 tablespoons almond butter
2 tablespoons maple syrup (or honey)
1/2 teaspoon vanilla
tiny pinch sea salt
2 fresh apples
Gently melt coconut oil. Stir caramel sauce ingredients together.
Thinly slice apples into matchsticks or use a spiralizer to create "apple noodles". You can also just slice the apples and use the caramel sauce as a dip.
Pour sauce over the apples. You can also top with walnuts, raisins, fresh figs, or whatever you please.
Recipe submitted by Andrea, Willamina, OR
Published on September 6, 2013