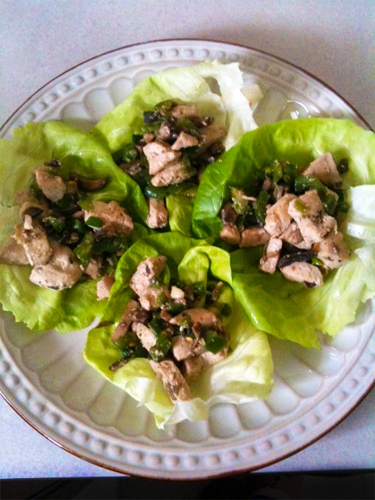 Asian Chicken Lettuce Wraps
photo by recipe author
Servings: 4
Preparation Time: 15 minutes
2 tablespoons coconut oil
1 inch piece of fresh ginger, diced
3 garlic cloves finely diced
3 chicken breasts, cut into cubes
1/2 teaspoon crushed red pepper
1 organic green pepper, diced
1/2 pack button mushrooms (or to taste), diced
4 organic scallions (green onions) sliced, greens and whites
2 tablespoons gluten free tamari
1 head of bibb lettuce, leaves detached, rinsed, and dried
Heat up the coconut oil in a skillet and add the ginger and garlic. Sauté for a few minutes.
Add chicken and crushed red pepper and cook 5-7 minutes or until cooked through. Add green bell pepper and mushrooms and sauté a few more minutes. Add the scallion in last with the tamari.
If you like your vegetables cooked more, add them in before the chicken. Season to taste with salt and pepper. Serve over 3 or 4 lettuce leaves.
Recipe submitted by Julie, Toms River, NJ
Published on May 16, 2011