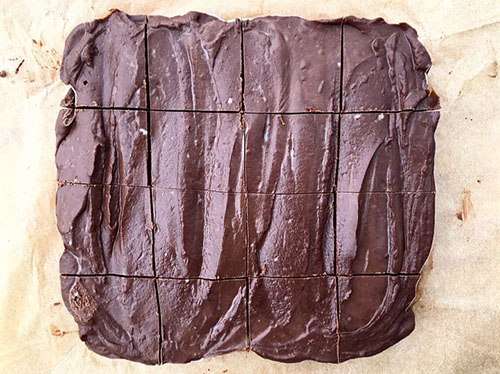 Avocado Chocolate Coconut Fudge
photo by recipe author
Servings: 16 (2 inch squares)
Preparation Time: 1.5 hours
In small saucepan, add cocoa powder, coconut milk, sugar, and salt. Mix over medium-low heat, stirring until smooth and creamy.
Let come to low boil and continue stirring and cooking for about 5 minutes.
Add vanilla, stir again, and remove from heat.
Let mixture cool completely. (You can speed this up in fridge, but do not let it harden.)
While chocolate is cooling, whip (or blend) CCC, coconut oil and avocado in a mixing bowl (or blender), until creamy and smooth.
Add cooled chocolate mixture to avocado mixture and whip (or blend) again until very creamy and smooth, scraping sides as needed.
Line an 8×8 baking dish with parchment paper. Pour fudge into pan, spreading out evenly.
Chill fudge in fridge until firmly set (about an hour).
Cut into 2 inch squares. Serve.
Note: Keep stored in fridge.
Recipe by Lynelle. Photo by Orissa. Submit your recipes here for a chance to win $50!
Published on August 14, 2017