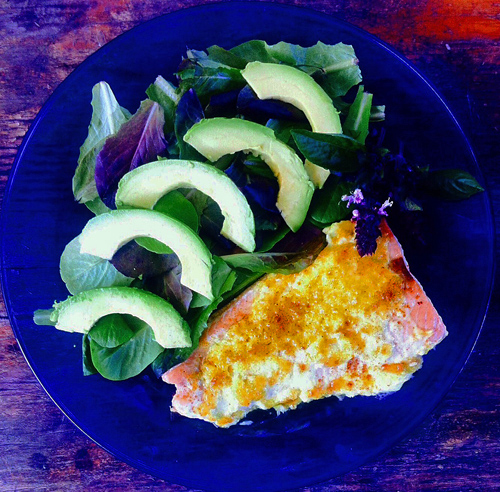 Baked Salmon with Creamy Roasted Garlic Sauce
photo by recipe author
Servings: 2
Preparation Time: 30 minutes
Salmon:
Creamy Roasted Garlic Sauce:
3 tablespoons mayonnaise
2 cloves garlic, pressed
1/2 teaspoon black pepper
1/4 teaspoon cayenne
1/4 teaspoon turmeric
1 teaspoon ground mustard
Preheat oven to 375 ° F
Place salmon fillets in a glass baking dish and sprinkle lemon juice, water, coconut oil, and salt over it. Cover with an oven-proof lid and bake until fork tender, about 15-20 minutes.
While fish is baking mix your mayonnaise, garlic, black pepper, cayenne, turmeric, and ground mustard in small bowl.
Remove fish from oven, drain most of the liquid out before spooning the garlic sauce over the fillets. Place fish back in oven and broil for 3 minutes.
Marijah from Columbia, KY won $50 for this recipe and photo! Submit your coconut recipes and photos here!
Published on October 21, 2015