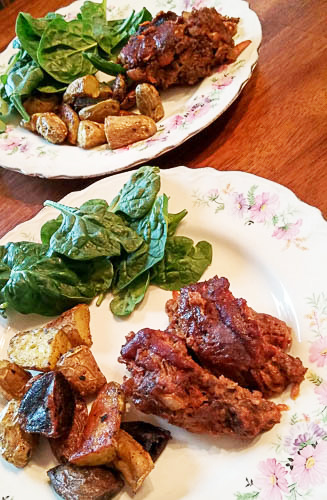 BBQ Meatloaf
photo by recipe author
Servings: 6
Preparation Time: 60 minutes
1 egg
1 teaspoon coconut oil (for greasing pan)
1 pound ground bison (or beef, turkey, chicken)
1 tablespoon garlic, minced
1/4 cup onion, diced
1/2 cup pumpkin puree
2 medium carrots, finely shredded
1 teaspoon chili powder
1 teaspoon ground cumin
1/2 teaspoon paprika
1/2 teaspoon black pepper
1/4 teaspoon chipotle powder
1 cup BBQ sauce*
Preheat oven to 375 °F and oil a loaf pan or casserole dish.
In a large bowl, combine all ingredients except BBQ sauce. Mix together with hands until ingredients are well combined. Place meat mixture into greased baking dish and form into a loaf. Bake for about 25 minutes.
Remove from oven and spread BBQ sauce over top. Return to oven and baking for an additional 15-25 minutes or until meat is completely cooked through.
Remove from oven and let cool about 10 minutes. Serve with a side salad and some roasted fingerling potatoes!
*Make home made BBQ sauce using this recipe here.
Courtney from Columbus, KS won $50 for this recipe and photo! Submit yours here!
Published on August 26, 2015