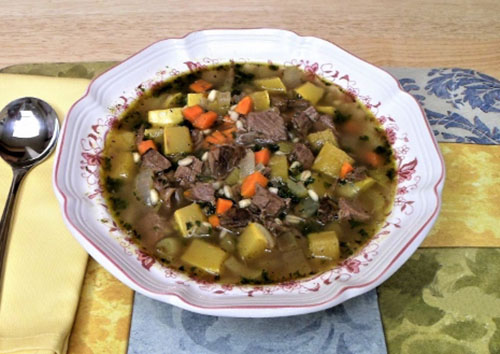 Beef and Delicata Squash Soup
photo by recipe author
Servings: 4-6
Preparation Time: 1.5 hours
1 medium Delicata squash
1/8 cup coconut oil
1 large onion
1 tbsp minced fresh garlic
1 cup carrots
1 cup celery
1 quart beef broth
1 cup water
2 cups cooked beef
1 tsp dried thyme
1 tsp ground sage
1 tsp Himalayan pink salt
½ tsp black pepper
1/3 cup quick cooking barley
½ cup minced fresh parsley
Preheat oven to 300 degrees.
Halve and remove the seeds from squash, then cut into bite-size pieces (do not peel the squash). Spread pieces in a single layer on a baking sheet lined with parchment paper. Roast for 30 minutes, or until squash is tender but not fully cooked. Place the squash in a bowl and set aside.
Heat the coconut oil in a Dutch oven or soup pot over medium heat. Sauté diced onion, garlic, carrots, and celery for 7 minutes, or until the vegetables begin to soften. Add the broth, water, beef, and reserved squash. Rub thyme between fingers and add it, along with the sage, salt, pepper, and barley to the pot. Stir well to combine. Bring soup to a boil, then lower heat to a simmer. Cover and cook for 30-45 minutes, or until the barley and vegetables are cooked through.
Turn off the heat and add parsley, stirring well. Let parsley blend in the soup for a few minutes, then serve.
Stephanie from Rio Rancho, NM won $50 for this recipe and photo! Submit your recipes and photos here!
Published on November 23, 2018