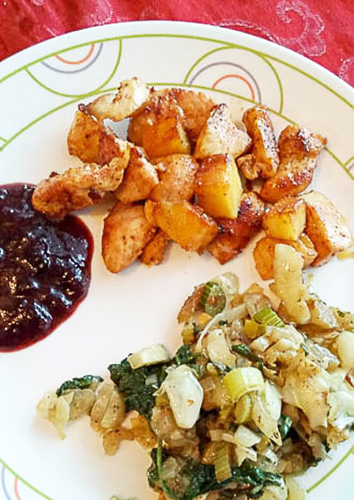 Berry BBQ Skillet Chicken
photo by recipe author
Servings: 4
Preparation Time: 30 minutes
Skillet Chicken:
2 tablespoons coconut oil
2 large chicken breasts, cut into chunks
1-2 cups pineapple fresh pineapple, cut into chunks
1 teaspoon paprika
1 teaspoon salt
1/2 teaspoon black pepper
1/4 teaspoon chili powder
pineapple shells, for cooking
Berry BBQ Sauce: makes about 1 cup
1/2 cup ketchup*
1/4 cup blueberry jam/preserve
1 tablespoon apple cider vinegar
2 tablespoons coconut oil
1 teaspoon minced garlic
1 teaspoon honey
1/4 teaspoon cayenne pepper
1/4 teaspoon chipotle pepper powder
In a large skillet, heat coconut oil. Add in chicken, paprika, salt, pepper and chili powder. Cook over medium heat for about 10 minutes.
Turn chicken over and place pieces of pineapple shell over chicken while it is cooking. This allows the chicken to steam cook and also allows pineapple juice to drip onto chicken. Cook for an additional 10 minutes or until chicken is cooked through. Remove pineapple shell and add in pineapple chunks. Sauté for just a couple minutes to get pineapple coated in seasonings.
Meanwhile, mix together sauce ingredients in a small bowl. Pour over chicken in skillet or serve on the side.
Make your own Homemade Fresh Tomato Ketchup, following this recipe here.
Courtney from Weir, KS won $50 for this recipe and photo! Submit your coconut recipes and photos here!
Published on February 22, 2016