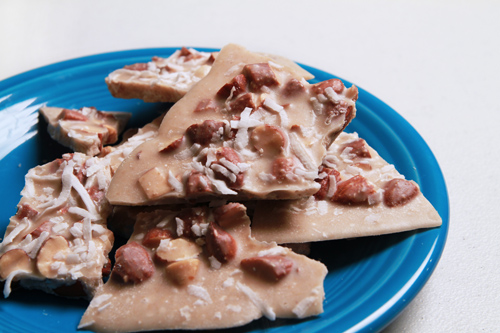 Prepared by Sarah Shilhavy, Photo by Jeremiah Shilhavy
It's true! These creamy little bark-like "crunchies" are seriously better than candy. No lie.
When this recipe was first published over 2 years ago it became an instant hit. Readers raved about the stuff. When I made it myself, I did too.
It is very simple and easy to make. The only really long part is waiting for the Coconut Cream Concentrate to warm up to a liquidy-ish state (see our video on how to do this) for proper measuring and mixing. After that, it's just a throw-it-all-together-and-refrigerate process. How much simpler can it get?
The first time I made this 2 years ago, the whole batch was gobbled up and then (it being Christmas and everything, with various other sweets lying around) was promptly forgotten. Now, at around the same time this recipe was first posted two years ago, we've finally gotten around to making another batch. At the first bite the taste of the salt turned me off, but on the second piece, I remembered why I liked this recipe so much. It's creamy, rich, versatile, easy, crunchy and low on sugar without sacrificing any taste. That is a nice thought considering how much one can overload on sugar this time of the year.
I like to cut down on the salt (not a big fan of the sweet and salty mix) and add a bit of vanilla extract. Chocolate is a great addition to this as well. Just melt and spread over the bark before chilling or drizzle. Use your imagination (this recipe will actually let you, it's next to impossible to mess it up), watch the video below for a step by step tutorial and mix up a batch to add to your Christmas cookie and candy plate. You won't regret it. I'm sure of it.
Better-Than-Candy Nut Crunchies
Process sugar in a food processor until very fine.
Spread nuts in a cookie sheet and toast very lightly in a low heated oven. Place Coconut Cream Concentrate jar in hot water to soften. In a medium sized bowl, beat desired amount of Coconut Cream, your choice of sweetener (see below), coconut oil, and salt with a mixer until creamy. Make sure the sugar and salt are mixed in well.
Fold the toasted nuts into the mixture and mix well with a large spoon until all nuts are well coated. Spread mixture evenly on a cookie sheet covered with parchment paper.
Sprinkle the coconut shreds or flakes toasted lightly if desired over the Nut Crunchies and place cookie sheet in the refrigerator.
When cold, break apart the Nut Crunchies into bite-sized pieces and store in covered containers in the refrigerator.
Note: all measurements are approximate and can be varied to suit your taste. It is pretty hard to mess these up.
Variations:
Use any nuts you prefer, and/or use stevia instead of sugar to taste.
Stir dried coconut toasted into the mixture before spreading out.
Add flavoring such as a tablespoon or two of lemon juice and some lemon zest for Lemon Nut Crunchies.
Melt some organic dark chocolate, and spread over the mixture before or instead of sprinkling on the coconut and refrigerating.
Stir bits of dried pineapple into the mixture for Pina Colada Nut Crunchies
Use your imagination!
Beware: They are addictive! But sooo healthy too. Enjoy!
Submitted by Carol, Palm Bay, FL
Thanks for stopping by!
Sarah
Published on December 16, 2009