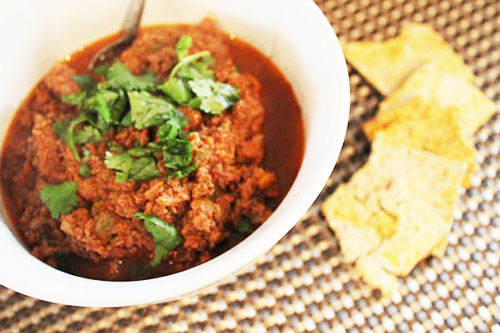 Bison Veggie Chili
photo by recipe author
Servings: 4
Preparation Time: 30 minutes
1 tablespoon coconut oil
1 pound ground bison
1/2 cup carrots, finely diced
1/2 cup zucchini, finely diced
1/2 cup celery, diced
1/2 cup bell pepper, diced
1/2 cup onion, diced
2 large tomatoes, diced
1/4 cup tomato paste
1 teaspoon chili powder
1/4 teaspoon paprika
1/4 teaspoon cumin
1/4 teaspoon cayenne powder
salt and pepper to taste
shredded cheese, optional
fresh chopped cilantro, optional
In a large stockpot, heat coconut oil. Add in bison, carrots, zucchini, celery, bell pepper, onion and tomatoes. Cook over medium-low heat for about 20 minutes or until meat is cooked and vegetables are soft.
Add in tomato paste, chili powder, paprika, cumin and cayenne. Stir and cook for another 5-10 minutes.
Remove from heat, ladle into bowls and top with shredded cheese and fresh cilantro, if desired.
Courtney from Weir, KS won $50 for this recipe and photo! Submit your recipes here!
Published on November 28, 2016