You need to make this.
For one thing, it's pretty. And tasty. They're delightfully creamy little squares of black and white chocolaty candy topped with toasty golden coconut. It's all about contrast. Black and white, dark and light, vanilla and chocolate, chewy and crunchy. How can you resist that?
And while you're at it, you might as well find out how easy it is to make your own sweetened condensed milk. Just follow the link. All you do is throw everything in a blender and blend. Told you it was easy.
Some may argue this isn't "real" fudge. Real fudge is made by making a real candy mixture, boiling that candy mixture to a softball stage (with a real candy thermometer) and then keeping your fingers out of it till it cools. Just because it's bubbly and shiny doesn't mean it's friendly.
But that doesn't matter. This candy is just as good as the "real" stuff, as well as being easier (and quicker) to make. The video will walk you through the process step by step, and if you look closely, you'll see how you can put the white chocolate layer on top (the picture has it on the bottom). Bet you didn't notice that till I told you.
Enjoy!
Sarah
Black and White Toasted Coconut Fudge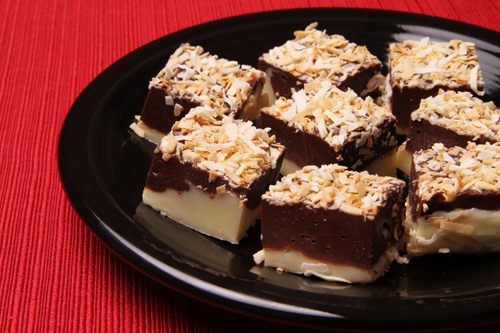 Black and White Toasted Coconut Fudge
Prepared by Sarah Shilhavy, Photo by Jeremiah Shilhavy
Servings: 16
Preparation Time: 10 minutes
Place white chocolate, condensed milk, 1 tablespoon butter and 1 tablespoon coconut oil into a medium sized saucepan over low heat. Stir until chocolate has melted. Spread unto bottom of parchment or wax paper lined 8×8 glass pan.
Repeat for dark chocolate layer, using the last tablespoons of butter and coconut oil. Spread onto white chocolate layer. The layers will not be even but that's part of the fun!
Press toasted coconut onto top of fudge and refrigerate or freeze until firm. Cut into small pieces and enjoy!
Note: If you want even layers instead of the marbled look place the dark chocolate layer on the bottom.
* You can make your own sweetened condensed milk with our
recipe here.
Recipe courtesy Sarah Shilhavy
Published on December 9, 2011