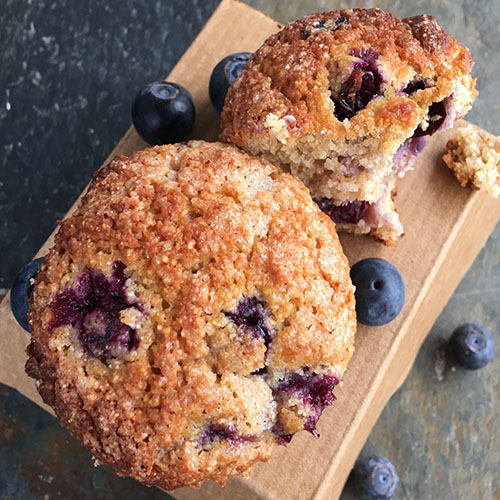 Blissful Blueberry Muffins
photo by recipe author
Servings: 8-10
Preparation Time: 15 minutes
Make a sugar shell "crust" on the muffins:
1/2 teaspoon organic raw sugar sprinkled over each muffin top before baking
Preheat oven to 375° F.
Line a muffin tin with paper liners or grease each cup.
Melt butter in the bottom of a large bowl and whisk in sugar, lemon essential oil, vanilla extract, lemon zest, kefir, and egg until smooth.
Whisk in baking powder, baking soda and salt until fully combined, then lightly fold in flour and berries.
Divide between prepared muffin cups and then sprinkle each top with 1/2 teaspoon organic raw sugar.
Bake for 25 to 30 minutes, until tops are golden brown and a tester inserted into the center of muffins comes out clean.
Let cool in pan for 10 minutes then remove to wire rack and serve while still warm.
Featured Product

Turkey Red Wheat has a unique, rich, and complex flavor that is said to be missing from most modern varieties of wheat. It has excellent flavor, excellent baking qualities, and good quality  protein. Learn more about the history of Turkey Hard Red Winter Wheat here.

Our Turkey Red Wheat is grown in the rural areas of western Wisconsin by small-scale farmers using sustainable agricultural principles. In addition to being GMO-tested and Glyphosate-tested, it carries our highest rating of "Traditionally Produced."

The flour is shipped to you directly from farmers who mill it fresh prior to shipping. We offer both whole wheat and sprouted whole wheat flours, as well as the wheat berries that can be milled in your home with a home grain mill.
Marijah from Columbia, KY won $50 for this recipe and photo! Submit your recipes and photos here!
Published on February 10, 2017