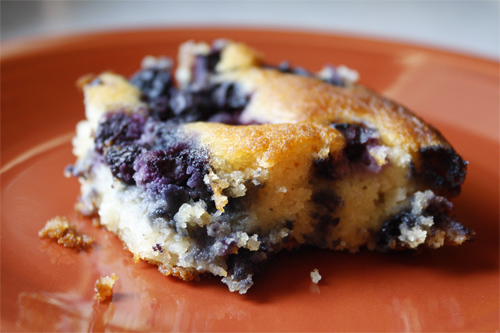 Blueberry Pudding Cake Recipe
photo by recipe author
Servings: one 9×9 pan
Preparation Time: 20 minutes
1 cup frozen blueberries
or
1 cup fresh blueberries & 1/4 cup juice of choice (I used mango)
1/2 cup coconut cream concentrate
1/2 cup full fat coconut milk*
1 large egg, at room temperature
2 tablespoons honey
1 teaspoon vanilla
1 cup almond or chestnut flour
2 teaspoons baking powder
1 teaspoon Himalayan pink salt
1. Make sure all ingredients are room temperature. The coconut cream concentrate should not be melted, but spreadable. If it is hard, immerse jar in very hot water or simmer gently on stovetop.
2. Whisk together coconut cream concentrate, coconut milk, egg, honey, and vanilla in a large mixing bowl.
3. In medium size bowl, mix together almond flour, baking powder, and salt.
4. Slowly add dry ingredients to wet, whisking until combined.
5. Preheat oven to 375 degrees F and grease a 9 x 9 baking pan. I used melted coconut oil. Pour batter into pan and spread with a small spatula. Top with blueberries.
If using fresh berries, bring berries and juice to a simmer over medium heat on the stovetop. Once it bubbles gently, reduce the heat to low and simmer for 4-5 minutes until the mixture thickens. Pour over the cake batter.
6. Bake in preheated oven for 20 – 25 minutes. 20 minutes will give you more of a pudding consistency, whereas 25 minutes will get you more on the cake side. I like to split it down the middle and go for 22, but every oven is different. Cool and serve at room temperature, topped with whipped coconut cream or ice cream.
* For the freshest coconut milk make homemade coconut milk. (See video at this link.)
Recipe submitted by Kate, Togane, Chiba, Japan
Published on August 15, 2012