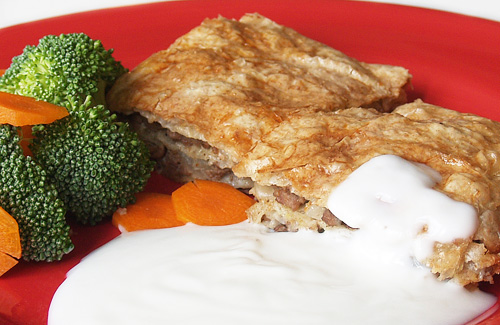 Börek made with grass-fed ground beef and served with goat's milk yogurt and vegetables
Prepared by Marianita Shilhavy, Photo by Jeremiah Shilhavy
Börek (sometimes spelled "borek" or "burek") is a "meat pastry" dish that is popular in Turkey. This is a slightly adapted version (no feta cheese) that is great for our grass-fed ground meats (beef and bison).
Servings: 4-6
Preparation time: 12 minutes
Preheat oven at 375 degrees F.
On a large pan sauté onion with about 3 tablespoons coconut oil. After 1 minute add ground meat, garlic, powder, salt and pepper. Sauté together till the meat becomes lightly brown. Set aside.
In a medium bowl beat the eggs and water together to make an egg wash. Set aside.
Grease the bottom and sides of a large baking dish with additional coconut oil. Place half of one filo dough sheet into the baking dish to cover bottom, leaving the other half overlapping the side. Brush with egg wash and lay the other half on top. Brush the top with more egg wash and repeat with 1 more sheet (lay half on top, brush with egg wash, lay other half on top, brush with egg wash). This should give you 4 layers of the filo dough from two sheets, with each sheet folded over to make the 4 layers. This makes your base before adding the layers of ground meat.
Spread out about one third of the cooked meat on top of this base. Take another sheet of filo dough and place half of the sheet on top of the meat and brush with egg wash. Lay the other half on top and brush with egg wash again. Top with about another third of the ground meat and then repeat this again to make three layers of ground meat from 3 sheets of filo dough, with the last folded-over filo sheet serving as the "top."
Bake in preheated oven for 30-35 minutes or until the top is golden brown.
Brush borek with coconut oil once done. Loosen the edges with a butter knife for easy cutting and serving. Cut into squares.
Serve with yogurt and vegetables as side dish. Enjoy!
Submitted by Marianita Shilhavy
Published on September 29, 2009