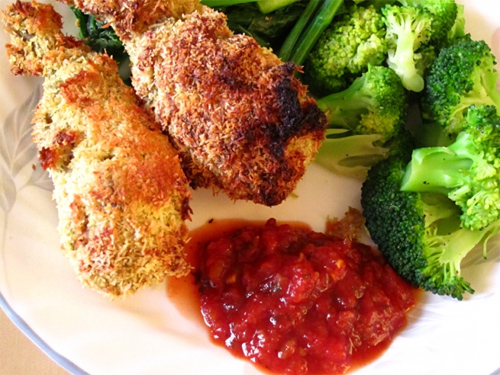 Braised-to-Oven Fried Chicken
photo by recipe author
Servings: 6
Preparation Time: 15 minutes
1. Blend garlic, onions, shallots, candlenuts, turmeric root, and coriander powder to make a paste.
2. Heat a pot over medium heat with coconut oil
3. Sauté the herb paste with lime leaves and lemon grass until fragrant.
4. Pour in the coconut milk and chicken drumsticks – let it simmer for 30 minutes. Season with salt accordingly.
5. Cook until the sauce reduces to paste.
6. Remove and let cool.
7. Preheat oven to 400°F in broil setting
8. Roll the cooked drumsticks on the shredded coconut flakes until evenly coated.
9. Place on a lined baking sheet and broil for about 20 minutes – turn over once
10. Set aside and let it cool on wire racks
Recipe submitted by Jos, Los Angeles, CA
* For the freshest coconut milk make homemade coconut milk. (See video at this link.)
Published on May 11, 2011