Decadent and addictive, you'd never guess how wholesome this fabulous bread actually is! Wonderful for a snack, as part of a holiday meal, or for loving gift-giving, this is THE best, moistest and most flavorful apple bread I've ever had.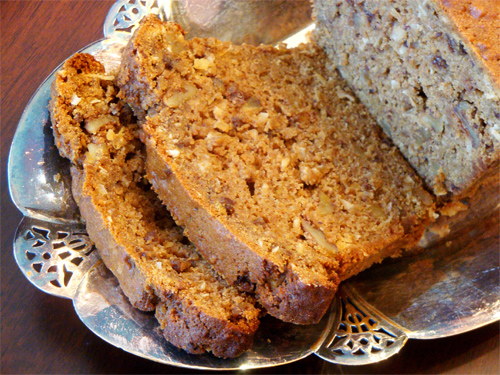 Brandied Coconut Apple Walnut Bread
Photo by recipe author
Servings: 1 loaf
Preparation Time: 20 minutes
1 3/4 cups whole wheat pastry flour
1 teaspoon baking powder
1/2 teaspoon baking soda
1/2 teaspoon salt
1/2 cup virgin coconut oil (solid form), or grass-fed butter
1 cup whole sugar (you could easily use less according to taste)
1/4 cup brandy
1 cup (generous) unpeeled organic apples, freshly shredded or minced
1/2 cup coconut flakes
1/2 cup chopped raisins (even if you don't normally prefer raisins, consider adding them, as they really add a lot of depth and flavor to this recipe)
1/2 cup chopped walnuts, more to taste
Preheat oven to 350 degrees. Grease and flour a 9×5 bread pan.
Sift first four ingredients together and set aside. Cream together oil or butter and sugar until light and fluffy. Add eggs one at a time, beating well after each addition. Stir into the wet mixture one at a time in this order: brandy, apples, dry ingredients, coconut, raisins, walnuts. Stir until combined but do not over-mix more than necessary.
Spread mixture evenly in pan. Bake for one hour or until a toothpick comes out clean in the center.
Allow to cool for 10 minutes in the pan, then use a butter knife to gently loosen the edges and turn out on a cooling rack to cool completely. Cuts best with a serrated knife and gentle sawing motion when cool – if you can wait that long! Enjoy with a nice glass of cold milk or good coffee.
Makes your house smell wonderful and keeps for days in the fridge – IF it lasts that long! 🙂
Recipe submitted by Lydia, Salem, VA
Published on December 3, 2010